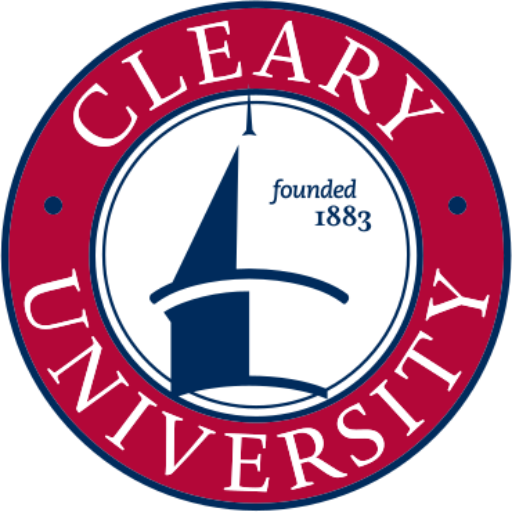 through cleary university
Earn free college credit in high school from an accredited private business university.
This pathway allows students to remain at MIPS for an extra year after high school, earning a free associates degree online through cleary university by the time they graduate.
An associate's degree.
no debt.
The average cost of a year of college in 2019-2020 was $30,500, and Americans now carry an average of $37,172 in student debt per person.

The Early Middle College Pathway is a chance for Michigan International Prep School juniors to radically accelerate their education, and to save thousands of dollars in tuition and fees by earning college credit in high school.

Through Michigan International Prep School's Early Middle College program, students can begin taking college courses as a junior, and can stay on at MIPS for one extra year (a "13th year") after high school, and earn an Associate of Business Administration through Cleary University by the time you graduate. Essentially, you stay with MIPS for a year of free college after 12th grade.

Your last year would be exclusively online college courses. That's two full years of free college credit through a private university.

Plus, Early Middle College graduates who apply for a bachelor's program at Cleary University within 6 months of graduation automatically win 50% off tuition over the next 4 semesters.

If you'd like to learn more about earning free college credit through our Early Middle College Program, click the button below, or call us at

248-289-5521
what makes this pathway so great?
The average cost of a college credit is $594. The Cleary Early Middle College pathway allows students to accrue free college credits (up to an associate's degree), saving them thousands of dollars in tuition and fees.



Eligible students (juniors in high school) start accruing free college credit through Cleary University their junior year, and are ultimately able to remain at MIPS for a "13th" year to build up even more free college credit. In other words, students stay at MIPS one full year after their high school work is finished to essentially attend college full-time at no cost.
This pathway is free! Text books are covered as well.

As a bonus, any Cleary Early Middle College student who enrolls at Cleary University to complete a bachelor's degree within six months of completing the Enhanced Dual Enrollment program will receive a tuition grant of up to a 50% total discount combined with other institutional aid, which will be spread over 4 semesters.
what grade levels can participate?
Are cleary classes online, or will i need to travel?
All classes are available online. Students who live near a Cleary location will have the option of attending on-campus versions of courses.

What courses will my student take?
Who qualifies for this pathway?
There are a handful of eligibility criteria:


•

Must be a MIPS high school junior


•

Must have a 2.5 cumulative unweighted GPA or higher


•

PSAT requirements: 460 in Reading, 510 in Math (For the 2020-2021 school year, this requirement is waived)


•

Must receive high school counselor/school administrator recommendation and approval
will my student need any special equipment?
No! MIPS and Cleary will work with you to get the appropriate textbooks for the Cleary courses that you will need. We want this to be accessible to as many of our students as possible.
Will my student have an advisor like a normal college student?
Yes! Your student will have a Cleary advisor, as well as their normal MIPS mentor.
how long during the year will this program last?
The short answer is that it lasts the entire school year.




While MIPS classes are still in the sequential track, Cleary classes are based on the semester format. In the first year, a student will have one Cleary class in the first semester and two Cleary classes in the second semester. Each year moving forward, the student will more Cleary classes per semester.
will my student have access to a certified teacher?
All dual enrollment classes are taught by certified Cleary University professors with advanced degrees. In addition, students will still have access to their MIPS mentor who will guide them through their dual enrollment experience.




If you'd like to learn more about the Cleary Early Middle College Pathway, click the button below,

or call us at

248-289-5521



your virtual learning journey begins here.