Online Middle School
Parent Resources
Preparing students for future success
Many students feel that their education isn't preparing them for what's next. At Michigan International Prep School, we focus on helping our online middle school students to prepare for their unique future goals. As students move closer to college, career, or whatever their unique plans are, we not only allow them to pursue their interests, but we encourage specialization!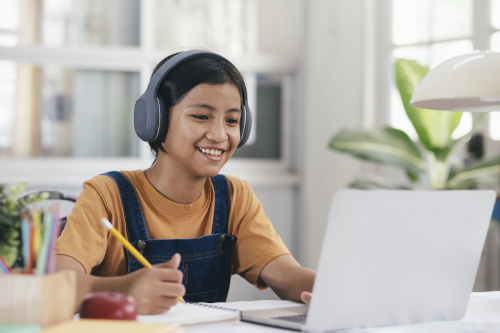 Are there any in-person tests MIPS students are required to take?
All students are required to take select in-person state tests once per year per the state of Michigan. In order to make this as easy as possible for our families, we provide multiple pop-up testing locations across the state.
Is the MIPS program fully accredited?
Yes! MIPS is accredited by Cognia (formerly AdvancEd), the benchmark of K-12 accreditation. We are also NCAA and NAIA approved for college bound student athletes. 
When and how do we pick classes?
Mentors and counselors help students review their transcript, determine what they need, and help them schedule their classes. The mentor and counselor will walk the student through the process from start to finish.
What is the difference between a Mentor and a Teacher?
The Mentor is your student's overall Coach/Guide/Cheerleader, looking at the "whole child" and monitoring progress. Each student must communicate with their Mentor at least once weekly, as they work with the student to create and update an individualized learning plan. Our subject-specific Teachers hold teaching certifications from the state of Michigan in their particular subject area.
What is the MIPS School of Arts?
Our one-of-a-kind online arts program offers exciting courses in piano, voice, guitar, art, and theatre. You can see our offerings at: mipreparts.org
To enroll in an arts course, you need to first complete your application. When your counselor meets with you to set your schedule, let them know which courses you're interested in joining. 
NOTE: some courses fill up as we approach the start of school, so apply early!
How will my child be placed in the right curriculum?
Our mentors and counselors work with each student to design a custom-fitted learning pathway that matches the interests, talents, and needs of the student. Each student will take an initial NWEA assessment that's used to determine the child's learning level. Using these NWEA scores as a starting point, the mentor and counselor will then work with the student and guardian to build a course schedule using curriculum, courses, and timing that will help them succeed.
I'm not sure how to help my student succeed with online school. What should I do?
Don't worry! Your student's mentor will work closely with you and your student throughout the school year to ensure that your student knows how to thrive in our online learning format. We want to help you in any way we can!
What if my son or daughter was expelled from their old school?
MIPS isn't a perfect fit for everyone, but for many students, it's a place to start fresh. Most young people who develop behavioral issues in the traditional brick and mortar setting have experienced (or are still experiencing) peer pressure, bullying, and anxiety. For many of these students, the safe, quiet, and relaxed nature of an online learning environment can give them the space to step back, breath, and start moving in the right direction again. The one-on-one mentor relationship provides a level of support and care that many students simply do not receive in a traditional school environment.
My child has special educational needs. What systems are in place to help them?
Students who qualify for special education services will have an Individualized Education Plan (or "IEP") created for them based on their specific needs. We have certified special education teachers who are assigned to each child to provide individualized instruction and to monitor their progress. Parents are consistently informed of their child's progress and are considered a key member of the learning community for their child. Learn more about our special education program here.
Can my son or daughter play sports at MIPS?
Because the MIPS program is so extraordinarily flexible, many of our students are able to participate in time-intensive sports or other extracurricular programs that they would never have time for in a traditional school setting. These students are able to spend large amounts of time in travel, competition, and training, while keeping on-schedule academically. MIPS is both NCAA and NAIA approved, so college-bound student athletes can maintain their eligibly. 
Are there any foreign language programs?
We offer entry level foreign language courses to middle school students. These classes give middle school students the opportunity to earn high school credit, depending on performance.
Do we have to live in Michigan year round?
In order to be enrolled at MIPS, a student must be a resident of Michigan (i.e. they must have a Michigan address). We have plenty of students who travel extensively (whether for sports, recreation, or to visit family), and our flexible online format allows them to stay on pace with their school. It is important, however, that traveling students stay engaged and working in their classes while they travel.
How much flexibility will my child have if they are pursuing high level sports, music, or other interests? How much does this cost?
Many of our students are involved in extremely time-intensive sports or arts activities that take them all over the country. Our program allows them to work when and where they are able to. 
MIPS is FREE. As a state-funded public charter school, we offer 100% tuition-free education for Michigan students.
Begin your online learning journey today.