---
Maurice & Tyrice Melvin-Sullivan
---
Maurice and his brother Tyrice are accustomed to travel.
---
It's par for the course for most Army kids. So when the family took a recent vacation to visit relatives in Germany, all was well...
Until everything went wrong.
The young men's grandfather, who was there with them in Germany, suffered a debilitating heart attack. The initial shock gave way to resolve over the difficult days that followed as the family recognized what needed to be done. The sudden incident called for an equally sudden change of plans, and the boy's mother, Nicole, opted to stay on in Germany to care for her ailing father (he has no other children). This also meant that Maurice and Tyrice were stranded in Germany until the situation was resolved.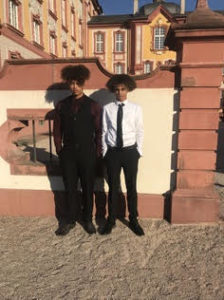 ---
The two had visited Germany before, but there's a respectable distinction between a quick family jaunt and an "I'm-not-sure-when-we're-coming-back" visit. To further complicate things, their father is currently stationed stateside with the U.S. Army, which has resulted in a hectic ping-pong itinerary for the young men between Germany and the States. At the time of this writing, the family is still caught in an indefinite limbo.
But as challenging as their situation may be, Maurice and Tyrice are making the best of it. Located in Bruehl (a small town nestled between Heidelberg and Mannheim), they've enjoyed a unique (albeit involuntary) extended cross-cultural experience that many students only dream of having. Of course, it's taken some time for them to adjust to the culture - particularly the cramped urban living quarters - but the boys are accustomed to seeing new sites and meeting new folks.
Still, there was still one major hangup: school.
Maurice and Tyrice had been attending Grandville High School in Michigan, but their new situation made it quite impossible to continue at a brick and mortar. They're still Michigan residents, and will return permanently as soon as the situation with their grandfather is resolved. But their temporarily transient lifestyle called for something more flexible. That's why they chose MIPS.
It's a common motivator for families who join the MIPS community. Flexibility. Our customizable structure and elastic schedule is ideal for students in unconventional circumstances. I suppose being stranded in Bruehl, Germany qualifies as an unconventional circumstance.
For Maurice, this change had profound ramifications - it meant he could graduate on time. Maurice is an ambitious and big-hearted young man with a passion for helping others (he hopes to study Psychology so he can spend his career doing just that), and a slightly lesser passion for collecting sneakers. Lots of sneakers.
Maurice is also a high school senior, and switching mid-year into a new school in a new country would have been tremendously difficult - perhaps impossible. Now, with a custom-tailored education plan, he's on track and forging ahead with an eye on higher education.
Amid the chaos of their circumstances, the boys are grateful for the opportunity to keep up with their schooling. 24/7 online access to courses allows them to work when and where they can. They're specifically thankful for teachers and mentors who understand and respect their situation.
If you'll pardon the cliché...we all have one-of-a-kind challenges and circumstances. For one, it might be a crippling health issue. For another, a tragic loss, or a problem that doesn't seem to be solvable, like a pesky mosquito that just won't quit no matter how many times you whack it. But for those who choose to see it, our challenges can often be the biggest, grandest opportunities of all. We know the sentiment is as worn out as an old sock, but it's as true as it's ever been.
Our friends Maurice and Tyrice are smack dab in the middle of a challenge that most of us won't face...and we have a hunch they'll come out stronger, smarter, and prepared for a bright future.
From all of us at MIPS - keep up the good work, boys! We're pulling for you all the way.
---